Dogfish Transformation Mask
Kwakiutl - 12 1/2" high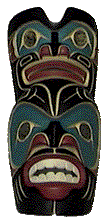 Yellow Cedar
Designer: Tommy Bruce
Carver: David Hennigar
I live in Vancouver, British Columbia, Canada, where I was born and raised. For over thirty years I have been both a student and dealer of Northwest Coast Indian Art, being introduced to this business by my former business partner, Theresa Neel, daughter of well-known Kwakiutl carver Ellen Neel, and aunt of carver David Neel. During these years I have become acquainted with many of the leading Northwest Coast Indian artists and their agents, as well as most of the leading dealers of quality Northwest Coast Indian Art.
My service to you is simply one of introduction to the Northwest Coast Indian Art community here where the artists live and work. You will not be asked for any fees, as my arrangements are with the artist and their agents. All enquiries, whether for an inexpensive first piece for your collection, or for museum quality pieces for public or private collections, will be answered immediately.
As I become more proficient at constructing this website, I will post photos of pieces for sale as well as photos of masks that I feel should be available for viewing by Northwest Coast Indian Art devotees.